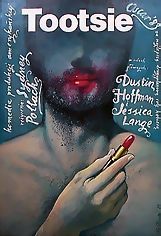 Today,
Daily Candy L.A.
had a link to a great site for movie posters from Poland. You can find it
here.
If you can't figure out the one with the legs, it's for "Dirty Dancing". They also have theatre posters and original art from the artists, as well.
If you don't already subscribe to
Daily Candy
, you should. They now have versions for L.A. and New York and one will be coming for London soon. Even if you don't live in any of those cities, it's fun to see what stuff is out there. It might even be inspiration for your next project.